"The journey towards achieving dreams and creating beautiful dancers requires dedication, determination, discipline and desire"
-Tammie Lee, Artistic Director –
Mrs. Tammie Lee began dancing at the older age of 12 and has been dancing for 30 years. She started her dance career by becoming one of the founding members of the Mendocino Ballet Company, and danced with them for 5 years. Her love for the art of dance continues to grow and she has been passing on her knowledge and love of dance to all her students.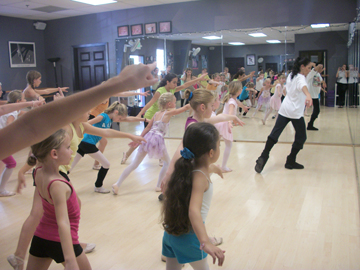 Mrs. Lee has danced with the Santa Rosa and Marin Ballet. She studied with the Long Beach Ballet, Jimmie DeFore Dance Center, & 3's Company Modern Dance Company and also received 2 scholarships for choreography through Orange Coast College.
She moved to Houston, Texas, where she continued her dance training with the Houston Metropolitan Ballet. After relocating to Calaveras County many years ago from Houston Texas, Tammie and her husband Kenny Lee opened Family 4 Fitness and 2 years later Mrs. Lee opened Studio 4 School of Dance located at Family 4 Fitness.
Mrs. Lee has trained in the Cecchetti technique and has also trained in RAD (Royal Academy of Dance) technique. Mrs. Lee has studied in modern, jazz and contemporary dance.
Mrs. Lee founded Studio 4 Dance Theater in 2009, she is the Artistic Director, produces and directs The Nutcracker Ballet each year and creates new works for the company for their spring showcases. Mrs. Lee continually furthers her dance education in San Francisco at ODC Dance Commons, Alonzo King Lines Dance Cener, Dance Mission and in San Rafael at Marin Dance Theatre. She continues to train in ballet, jazz, contemporary, modern & hip-hop.